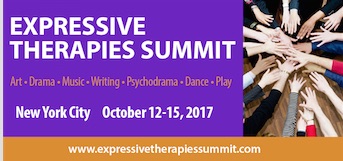 Craig is proud to once again be involved with the Expressive Therapies Summit, which will hold its eighth conference in New York City this fall.  This year, Craig has curated a track on Gender, Identity, and Sexuality featuring a collection of related workshops that take place across the 4 days of the conference.  They are as follows:
How Do We Experience and Perform Identity? A Creative & Embodied Exploration
Brian T. Harris, PhD, MT-BC, LCAT
Britton Williams, MA, LCAT, RDT
My Voice, My Self: Vocalizing Identity Beyond the Binary
Susan Hadley, PhD, MT-BC
Maevon Gumble, MT-BC
Working with Sexual Trauma Across the Life Span: Creating Healing Possibilities
Craig Haen, PhD, RDT, CGP, FAGPA, LCAT
Einat Metzl, PhD, ATR-BC, RYT, LMFT
Darcy Lubbers, MFT, ATR-BC, PhD-c
The Enigma of Desire: Sex, Longing and Belonging
Galit Atlas, PhD, LCAT, LP
Helping LGBTQ Youth Create a Coherent Self-Narrative
Mark Beauregard, RDT-BCT, LCAT
Kristin Long, RDT, BCT, LCAT, LP
Establishing and Maintaining Intimacy in Therapeutic Relationships
Natalie Carlton, PhD, ATR-BC, LPCC
John Lutz, MCAT, ATR-BC, LPC
The Summit features over 130 sessions led by experts in the field of using the arts for healing.  Find out more about the conference here.